Next week is our annual Divots Fore DARI golf outing at the Highland Springs Golf Course in Rock Island. There's still time to register your team and come out to have a rollicking good time while supporting the great community of Rock Island!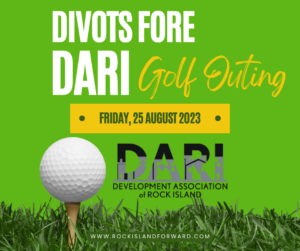 The cost for the event is $150 per person, with proceeds staying right here in Rock Island. We have used the golf outing to fund NPC-11, college scholarships, community restoration projects, and grants. How often do you get to have a fun day on the golf course while supporting the community?
"Divots Fore DARI is always a fun time," says DARI Vice-President Liz Murray Tallman. "We can't wait to see everyone on the golf course next week. Spend the day with us and help raise funds for worthy Rock Island community initiatives!"
Please come out and join us for a day full of friends, fun, and sun on the golf course! Even golf novices will have a blast. This event is about having fun, getting to know other community members, and giving back to the community we all love. We hope to see you there!