"Why Rock Island" Scholarship Program Returns in 2023
DARI is proud to be able to be able to help Rock Island entrepreneurs to make downtown Rock Island a better place for us all to live. Part of that mission means helping Rock Island leaders of the future. DARI is proud to present the "Why Rock Island" Scholarship Program for 2023.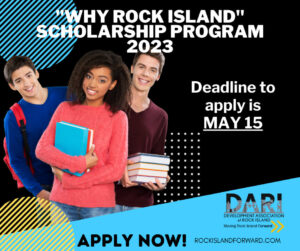 This scholarship is an opportunity for students to use their imaginations to create a visual essay that describes Why Rock Island is a wonderful place to live, work, and play. One student will be selected to receive a $5,000 scholarship. Students will need to create a short video, five minutes or less, or a visual photo presentation. This presentation should be made available online, and could be in the form of a YouTube or TikTok video, a Google Doc, a PowerPoint Presentation, or another visual form of media. Surprise us with your imaginations!
The completed application form and required documentation are to be submitted via email by May 15, 2023. Application Documentation will include the following:
• Completed typed Application Form.
• Written Essay.
• Visual Essay – A link to your visual documentation.
• Letter of Reference (which will be emailed separately to DARI).
• Permission for the Release of Video/Visual Materials.
There will be one winner selected for a $5,000 scholarship for the 2023-2024 academic year. Awards are for one year and will be paid directly to the college/university of enrollment upon receipt of verification of enrollment. The DARI board reserves the right to modify or alter the amount of awards.
Scholarship winners will be asked to submit a photo of themselves to be featured in a media release, social media and other promotional materials. Click here to download the application and instructions.
Don't delay! The deadline is May 15 and Winners will be announced in June 2023!