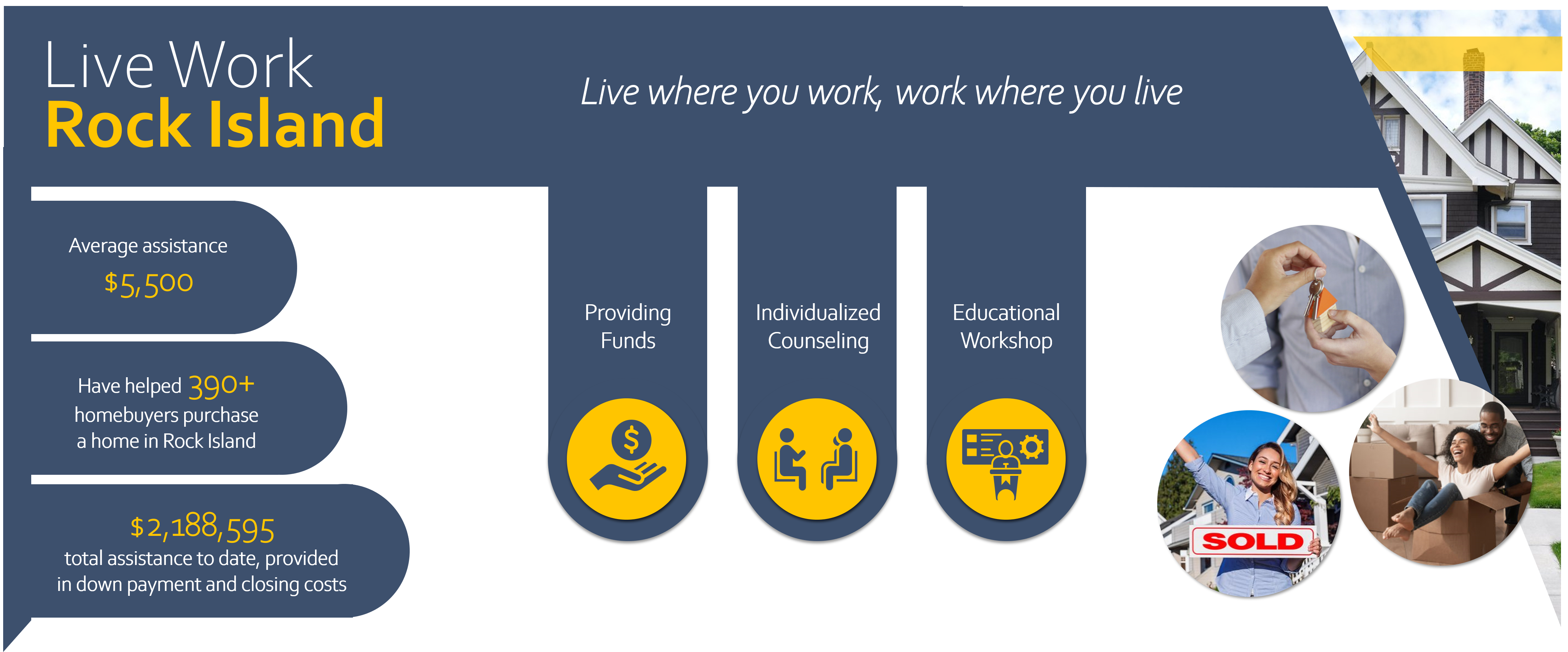 Homebuyer Assistance Program
Offered for employees of the Development Association of Rock Island (DARI) members wishing to buy a home anywhere within the city limits of Rock Island.
The Live Work RI Program provides help with down payment and closing cost assistance. The program includes individualized counseling and an educational workshop that will lead you through the process of selecting, purchasing, and maintaining a home. Eligible homebuyers participating in the Live Work RI Program are granted:
Up to 5% of the home's purchase price for down payment assistance
Up to $1,500 for closing costs
Homebuyer must be an employee of an eligible DARI member company
Homebuyer must contribute a minimum $1,000 to the transaction
Homebuyer can earn up to 120% of the area median income
Please call 309-788-6311 for more information about this program or to make a reservation for a homebuyer education class.
2022 Class Schedule:
Prior to closing on the home, the homebuyer must attend a homebuyer education class.
Saturday, January 15
Saturday, February 12
Saturday, March 12
Saturday, April 16
Saturday, May 14
Saturday, June 18
Saturday, July 16
Saturday, August 13
Saturday, September 17
Saturday, October 15
Saturday, November 12
December class is tentative
The class is free. Class has limited seating.
Requirements:
Applicant must fill out an application.
A budget is required and recommended as the first step before considering home ownership
Meet employer eligibility requirements (A list of companies that participate in the home buyer program can be found here. Don't see your company on the list? Have them give us a call to learn more!)
Earn at or below 120% of the Area Median Income
The home must be in the City of Rock Island
Qualify for a mortgage loan
Attend homebuyer education class
Funding is allocated on a first-come, first-serve basis. All are encouraged to apply.
Beginning Steps
Step 1: Complete an application! Apply as soon as you begin thinking seriously about purchasing a home. We are here to help guide you through the entire process, from start to finish. Your application must be approved prior to making an offer on a home.
Step 2: Set up a meeting with GROWTH! They have four HUD-certified Housing Counselors that will meet with you and provide you with the financial tools needed to achieve your goal of homeownership. Send an email to info@growthcorp.org or call 309.788.6311 to inquire.
Step 3: Participate in a webinar! Attending a one-day homebuyer education webinar is required prior to making any offer on a home. The classes are held once per month and you can register online to attend. There is no cost to the homebuyer. Send an email to info@growthcorp.org or call 309.788.6311 to register.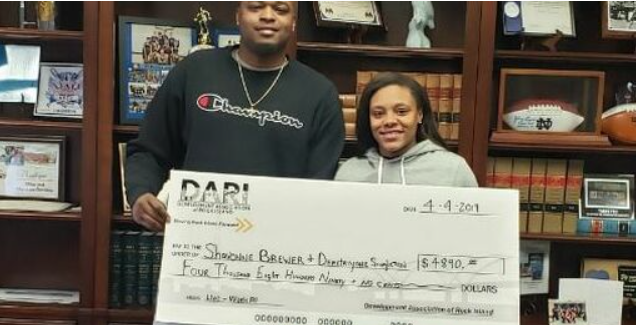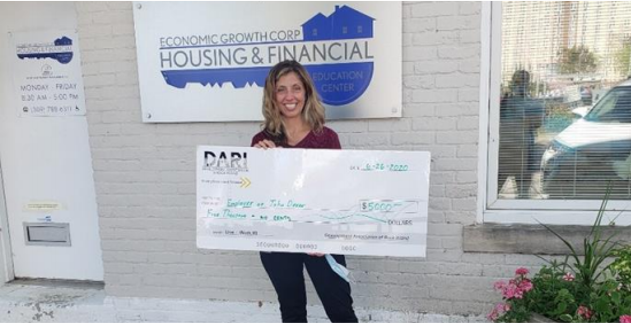 Frequently Asked Questions
When Should I Apply?
Complete an application as soon as you begin thinking seriously about purchasing a home. Our housing staff is here to guide you through the entire home buying process, start to finish. The Live-Work Rock Island program cannot work for you if you wait until after you make an offer-to-purchase.
Do I Have to Get a Home Loan?
You will need to qualify for a first mortgage loan from an approved lender. Our housing staff work one on one to assist you with financial education and help you obtain financing that is affordable and easily understood.
Can I use a REALTOR®?
We strongly encourage you to work with a qualified REALTOR®. Find one that you are comfortable with because he/she can save you a lot of time and money.
How Long Does it Take?
Once a completed application has been submitted, our housing staff will typically review your completed application and provide a plan of action within 5 business days. Staff will also schedule a meeting with you to review the plan and help you take steps needed to apply for a first mortgage loan from a participating lender of your choice. Once approved for the program, offers-to-purchase must allow for 30 days between acceptance of the offer and closing.
For Realtors & Lenders
Equal Housing Opportunity Working with a Buyer?
If you are working with a buyer interested in going through Live-Work Rock Island program, please note that it is important for the buyer to:
Sign up for the 8-hour homebuyer education class
Complete the application and submit it to our Housing Manager for approval. Our Housing Manager will determine eligibility and provide a plan of action within 5 business days of a completed application
Making an Offer to Purchase:
Before making an offer, the homebuyer must be approved for our program. The homebuyer must have the assistance program application filled out and all financial information turned into our office before the Housing Manger can approve the application. Homebuyer Assistance Program and amount of assistance must also be noted in the offer to purchase.
Additional questions?
For more information, call 309.788.6311 or email info@growthcorp.org. Our office Housing & Financial Education Center address is 114 19th Street, Rock Island, IL 61201.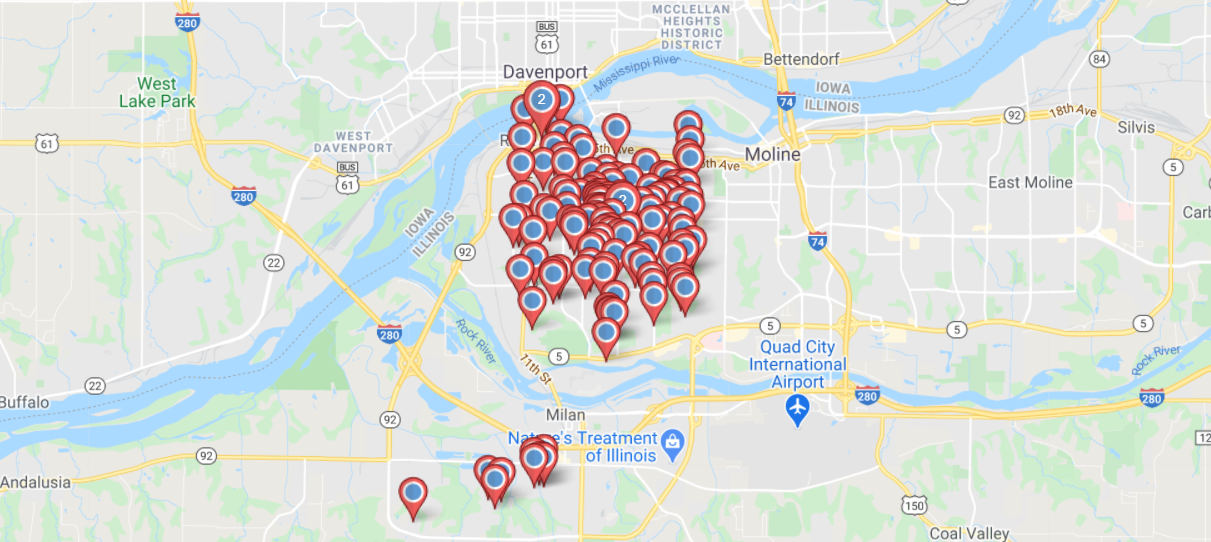 JOIN THE HUNDREDS